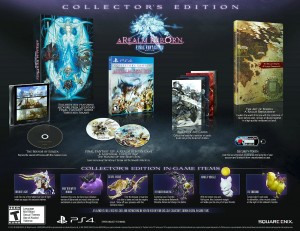 Square Enix has announced that Final Fantasy XIV: A Realm Reborn will be available for the PS4 on April 14. The game will be available in a standard edition (priced at $39.99) and a newly announced Collector's Edition, which has been priced at $79.99.
The Collector's Edition will include your usual assortment of bonus items including an artbook, collector cards, and a fancy box:
Exclusive Box: Featuring artwork by Yoshitaka Amano
Artbook: The Art of Eorzea: A Realm Reimagined
Special Movie Content Disc: The Waning of the Sixth Sun
Seven In-Game Items: Fat Chocobo mount / Coeurl Mount / Behemoth Barding / Wind-up Moogle / Baby Behemoth / Helm of Light
Special Soundtrack: The Sounds of Eorzea
Art Card Set: Five exclusive character cards
Themed Security Token: Enhance the security of your account and protect it from unauthorized access
Pre-orders for both editions are now being accepted and those who pre-order the game will receive two additional in-game items (Mog Cap and Cait Sith Doll minion) and the ability to participate in Early Access starting on April 11.
Whether you pre-order or not, if you're a current player of Final Fantasy XIV: A Realm Reborn on the PS3, Square Enix has confirmed that you'll be able to transfer your character to the PS4 version at no charge.