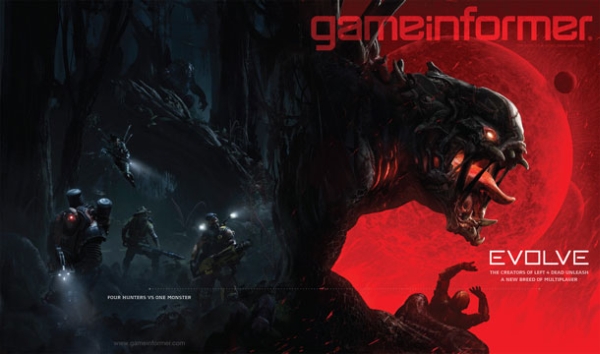 Today, Game Informer revealed the cover subject of their latest issue: Evolve, a new cooperative multiplayer game from Turtle Rock Studios, the minds behind Left 4 Dead.
The next-gen title, hitting stores this fall, follows the same basic premise as its zombified brethren. But instead of four survivors taking on an entire zombie horde, Evolve pits four alien hunters against one extraterrestrial creature. Before you start thinking, "Where's the challenge in that?" keep in mind that this is one powerful alien. Not only that, but as the game progresses, your foe gets increasingly larger, and much stronger.
In addition to the standard cooperative mode, the game also features a cooperative/competitive mode, where one gamer plays the role of the alien. Like Left 4 Dead, the game is designed to be played again and again, with slight changes every time you play. More details on Evolve will be included in Game Informer's February 2014 issue.
Evolve was originally set to be published by THQ, but when they went under the project was scooped up at auction with an astonishing $10.8 million bid by 2K Games. If the Turtle Rock's previous outings are any indication, it's going to be money well spent and one hell of a ride for gamers. Evolve will be available for the PC, Xbox One, and PlayStation 4 this Fall.