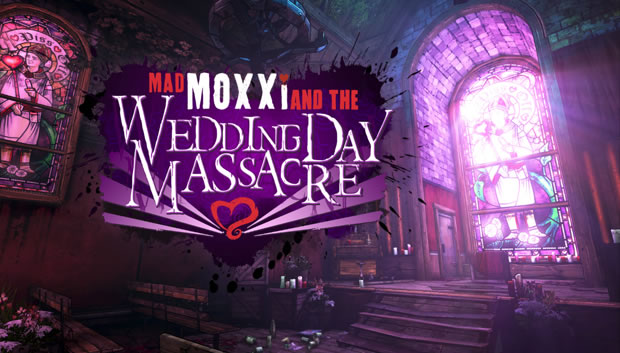 Gearbox is hard at work on the latest addition to the Borderlands 2 Headhunter series… and its almost here! The latest DLC, Mad Moxxi and the Wedding Day Massacre, takes a poke at the big bad Hallmark machine, Valentine's Day. The Hodunks, the Zafords, and everyone's favorite, Ellie, will be there, as well as Innuendo Bot 5000, who is sure to have some hilarious new dialogue.
Of course, once you beat the main boss, there are head mods for your character, and according to the 2K blog, "This time the heads are a little more graphic. With these new heads, you'll also get an inside look at the Vault Hunters, especially Zer0… though it should be said that his new head is named 'N0t C4n0n' for a reason."
Gearbox also announced that, Sir Hammerlock Versus the Son of Crawmerax, the fifth (and final!) DLC in the Headhunters series, will be out in April. While these are fun, they are far too short, and I'm hoping these talented developers will get to making Borderlands 3 already.
Mad Moxxi and the Wedding Day Massacre will be out on February 11 for the PC, PlayStation Network (PS3), and Xbox Live Store (Xbox 360).