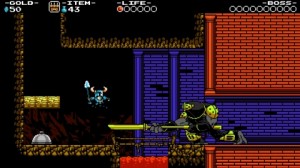 There are tons of amazing indie games coming to Nintendo's 3DS and the Wii U through the eShop – and some are even coming out for both. Retro City Rampage: DX is coming to the 3DS tomorrow, with Siesta Fiesta and Moon Chronicles following in March, and Treasurenauts in May. Those titles join Jett Rocket 2 and Edge, which are already available, and Shantae and the Pirate's Curse, which is due out this quarter.
And the Wii U has an even longer list. Unepic, Knytt Underground, and CastleStorm are available now, with Wooden Sen'SeY coming out this month. And, of course, we can't forget Shovel Knight, which is coming to both systems on March 31.
Hit the jump for a full list of all the available upcoming indie games on the 3DS and Wii U eShop.
Wii U eShop
Unepic from EnjoyUp Games
Knytt Underground from Ripstone
CastleStorm from Zen Studios
Wooden Sen'SeY from publisher Neko Entertainment and developer Upper Byte Studio – February
Ittle Dew from Ludosity – February/March
Ballpoint Universe from Arachnid Games – March 18
Armillo from Fuzzy Wuzzy Games – March 24
Nihilumbra from Beautifun Games – March
Scram Kitty and His Buddy on Rails from Dakko Dakko – March
Squids Odyssey from The Game Bakers – March
Treasurenauts from Renegade Kid – March
Teslagrad from Rain Games – March/April
Monkey Pirates from Henchmen Studio – Q1 2014
Qube Director's Cut from Toxic Games – April
Assault Android Cactus from Witch Beam Games – Q2 2014
3DS eShop
Jett Rocket 2 from Shinen Multimedia
Edge from Two Tribes Publishing
Retro City Rampage: DX from Vblank Entertainment – February 6
Siesta Fiesta from Mojo Bones – March
Moon Chronicles from Renegade Kid – March
Shantae and the Pirate's Curse from WayForward Technologies – Q1 2014
3DS and Wii U eShops
Shovel Knight from Yacht Club Games – March 31
1001 Spikes from Nicalis – Q1 2014