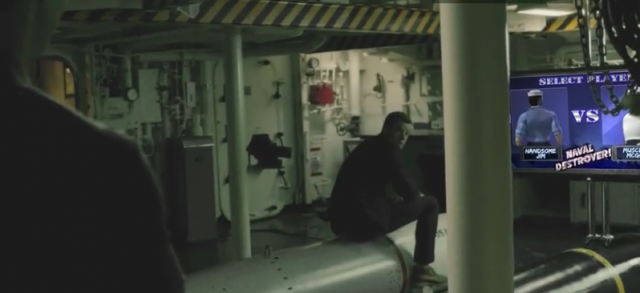 What do you do when you're making a television show, and you need to show off a fake video game? How much work does that take? According to this hyper-detailed article at Tested.com, it takes quite a lot.
In the new HBO series, Looking, Patrick (pictured above) works at a fictional video game company called Most Dangerous Games (MDG). In a scene, in which you actually see only a few seconds of the video game, Patrick plays a fighting game against another character. In order to create that video game, Todd Fjelsted, the show's production designer, turned to CG expert Craig Vance.
Vance put a lot of work into it, starting "by going through his library of CG assets, hoping that he might be able to modify existing structures instead of having to build them from scratch. The game's three characters, for instance, were ones Vance had pre-built based on people he'd worked with, which he then altered to fit Naval Destroyer's specifications. (So not only are the video game's characters roughly based on the show's characters, but they're also roughly based on people Vance actually works with, too). The battleship exteriors were also existing assets that were tweaked."
Full details can be found at the article. The final product was six minutes of gameplay, which was only shown onscreen for one second. Wild!
[Photo Credit: HBO]