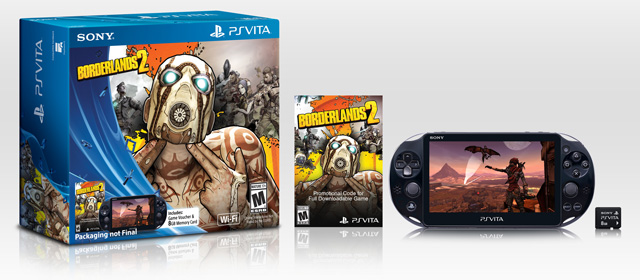 Wow. Sony announced today that the Vita Slim is coming to the US this spring, along with dropping the bombshell on this beauty: a gorgeous Borderlands 2 Vita Slim bundle. The bundle will have the brand new slim, which is 20% slimmer, 15% lighter, and has "1GB of internal memory built into the system." It will also have Borderlands 2, six DLC packs (Captain Scarlett and Her Pirate's Booty, Mr. Torgue's Campaign of Carnage, Psycho Character Class, Mechromancer Character Class, Ultimate Vault Hunter Upgrade Pack 1, and the Collector's Edition Pack), and an 8GB memory card.
That's not all – there's also the fact that "the battery life of the new PS Vita system has increased to 4-6 hours of game play, up from 3-5 hours in the current model, and about 7 hours of video play, up from 5 hours from the current model." Add in that "its 5-inch front touchscreen has a new high-definition liquid crystal display (LCD)," and you've got some heavy machinery – for $199.99.
If you've been waiting to get a Vita, this might be your best chance. Hit the jump for a list of a few other big games Sony plans to release for the platform this year.
1001 Spikes
BlazBlue: Chrono Phantasma
Destiny of Spirits
Fez
Final Fantasy X HD Remaster and Final Fantasy X-2 HD Remaster
God of War: Collection
Helldivers
Hohokum
Hotline Miami 2: Wrong Number
Invizimals: The Alliance
Luftrausers
Metrico
Minecraft
MLB14 The Show
Murasaki Baby
No Heroes Allowed: No Puzzles Either!
The Sly Collection
The Walking Dead: Season Two
The Wolf Among Us