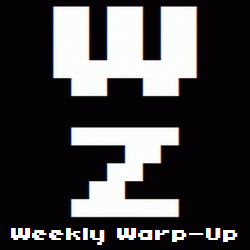 No, that's not a typo. Welcome to the Weekly Warp-Up, your weekly wrap-up of the biggest and the best articles posted at Warp Zoned this week…
Super Bowl Ex-Ell-Vee-Eye-Eye-Eye begins in a few hours and it looks like all the gloom and doom a few weeks ago about fans freezing to death in their seats was a little overblown. The current weather forecast calls for a high of around 50 and a little bit of rain. It's definitely a far cry from the blizzard Bowl that EA Sports and Madden NFL 25 predicted, so perhaps the Seahawks can defy the simulation and pull out a win.
But the biggest spectacle in sports has got nothing on the news that Microsoft has obtained the rights to the Gears of War franchise from Epic Games. They've entrusted the future of the franchise to Black Tusk Studios, though this deal may have killed their in-development "AAAA game."
And speaking of business deals… Nintendo has a plan! It involves releasing Mario Kart 8 in May, DS games on the Wii U's Virtual Console, and more third party licensing deals like Hyrule Warriors. That… that actually sounds a lot like their old plan.
But you can read all the rest of the new news after the break.
The Week in Reviews…
The Week in New Games…
Amazing Paperboy Delivers…
It's A Secret To Everybody…
And Finally…
Microsoft wants to give you $100 towards an Xbox One if you trade in a PS3 (or Xbox 360) at your local Microsoft Store. Show of hands, how many people actually have a local Microsoft Store?