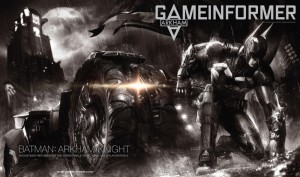 Rocksteady Studios has finally emerged from the shadows and shone a spotlight on their next title… Batman: Arkham Knight. The next chapter in the Arkham saga will be released for the PC, PS4, and Xbox One sometime this year. But before that, it will grace the April 2014 cover of Game Informer. The magazine has also provided a look at an an extended four-minute trailer that will give gamers a taste of Rocksteady's next-gen ambitions. The trailer can be found after the break.
As The Joker died at the end of Batman: Arkham City, the Caped Crusader will require a new set of foes to tangle with. In Arkham Knight, Batman will apprehend Scarecrow, The Penguin, Two-Face, Harley Quinn, and many others. And after a jump to next-generation consoles, the area that Batman will be patrolling has increased quite a bit. In fact, Gotham City has expanded so much that Batman will be able to drive the Batmobile through the streets in pursuit of the city's criminal element.
Finally, Rocksteady has confirmed that they will not develop any Batman: Arkham games after the release of Batman: Arkham Knight. So I expect fans to start clamoring for a Batman Beyond adaptation any day now.