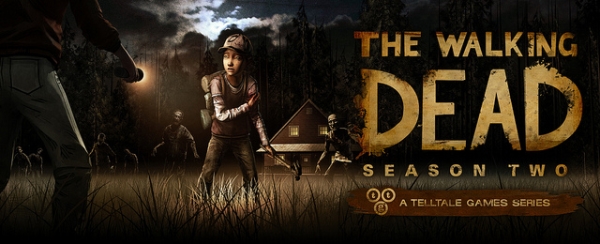 Telltale's Walking Dead Season 2 saga continues this week as the second episode, "A House Divided," is now available to download for the PS3 through the PlayStation Store. It is joined by several other highly anticipated PS3 titles including South Park: The Stick of Truth, Obsidian's South Park RPG; NASCAR 14, Deep Silver's first attempt at stock car racing; and Master Reboot, a sci-fi horror title from Wales Interactive.
Over on the PS4 side of the store, two games that were previously released for the PS3 are now available in expanded editions for Sony's next generation console. Dead Nation: Apocalypse Edition brings its twin-stick shooting to the PS4 where it's joined by Ronimo's console-centric MOBA, Awesomenauts Assemble.
Two other games round out this week's PlayStation Store update: the PS2 Classic Growlanser: Heritage of War and Hatsune Miku Project Diva F, a rhythm game for the Vita.
More details on all of these games can be found after the break. And a full rundown of this week's new game add-ons and PlayStation Store sales can be found at the PlayStation Blog.
PS4 Games
Awesomenauts Assemble! ($9.99)
Awesomenauts is a MOBA fitted into the form of an accessible 3-on-3 action platformer. Head out to the online battlefields together with your friends as an online party or in local split screen, and never worry about having to wait for an online match because of drop-in matchmaking!
Dead Nation: Apocalypse Edition ($14.99)
DARE YOU ENTER THE CITY OF THE DEAD? Run-and-gun through the zombie apocalypse as hit arcade shooter Dead Nation™ shuffles onto PlayStation 4. Fight for your life alone or with a friend as Jack McReady or Scarlett Blake as you step onto the streets of a city overrunwith undead flesh-eaters. And, if you're feeling really brave, take a walk down the Road of Devastation – a deadly experiment that pushes your survival skills to the absolute limit as you face hordes of zombies with no extra lives and no second chances.
PS3 Games
South Park: The Stick of Truth ($59.99)
From the perilous battlefields of the fourth-grade playground, a young hero will rise, destined to be South Park's savior. From the creators of South Park, Trey Parker and Matt Stone, comes an epic quest to become… cool. Introducing South Park™: The Stick of Truth™. For a thousand years, the battle has been waged. The sole reason humans and elves are locked in a neverending war: The Stick of Truth. But the tides of war are soon to change as word of a new kid spreads throughout the land, his coming fortold by the stars. As the moving vans of prophecy drive away, your adventure begins.
Master Reboot ($14.99)
Imagine a world where death is no longer final, where precious memories are saved to enjoy forever, where your soul is immortal, welcome to the Soul Cloud. Upload your soul to our dedicated servers and relax knowing that a part of you will live on for eternity. That favorite holiday, happy moments from your childhood, meeting that special someone for the first time. All these memories saved for your digital soul for your family to revisit again and again. The Soul Cloud – saving your past to secure your future. Master Reboot is a haunting first person sci-fi adventure game set inside the Soul Cloud. It's an exploration game with action and puzzle elements set across unique dream like world. The game features a distinctive visual style, intriguing story-line, psychological adventure-game action and a dynamic atmospheric soundtrack. Get prepared for upload……Where am I?…..Who am I?……It's time to piece your life……and death back together.
NASCAR 14 ($49.99)
It's your turn to immerse yourself in the full-throttle thrill of the world's most exciting motor sports racing series in NASCAR '14. Take the wheel from your favorite driver and participate in the race week experience complete with practice, qualifying, and race day challenges. With your favorite personalities and live replay, NASCAR '14 is the authentic NASCAR experience for fans.
The Walking Dead Season 2: A House Divided ($4.99)
The past returns to haunt Clementine and the group after an encounter with a mysterious stranger triggers a desperate escape. Frayed tensions are pushed to breaking point, as suspicion, anger, loss and betrayal result in death, and for Clementine, a test of loyalty as she is faced with the potential of choosing between a cloudy past and an untested future.
PS2 Classics
Growlanser: Heritage of War ($9.99)
Join Haschen, a young officer of the Peace Maintenance Brigade, as he goes on a dangerous journey to bring peace and restore balance to his homeland in this tactical RPG. See the brewing storm of war from multiple viewpoints and generations, each of them pursuing their own ideas of true peace. Forge relationships and strengthen them in fast-paced strategic battle! Who will be the one to receive your pledge of eternal friendship?
PS Vita Games
Hatsune Miku Project Diva F ($29.99)
Join Hatsune Miku, the world's most famous digital singer, in an all-new Rhythm video game featuring selections from her popular songs! Experience Miku's music like never before as you test your skills by tapping the buttons to the beat! Choreograph and create your own Miku videos in Edit Mode, and spend time with your favorite characters in their own customized Diva Room!