Whoops! Time outs Star Fox for Wii U ahead of Nintendo's E3 event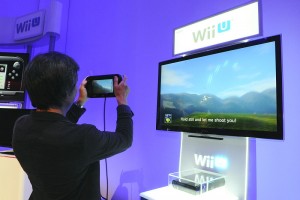 Nintendo's E3 Video Presentation will be available in a little under two hours, but Time Magazine has revealed one of their surprise announcements a might early. The magazine published (and then pulled) an interview with Shigeru Miyamoto where he discusses Star Fox Wii U and its brand new control scheme. The picture to your right appears to show Mr. Miyamoto piloting an Arwing by tilting the Wii U GamePad. Players will also be able to control the Landmaster Tank and a new helicopter-like vehicle that requires two people to pilot. According to Time, Star Fox Wii U is "at least a year away."
The interview also mentions two experimental games, "Project Giant Robot" and "Project Guard."
"Project Giant Robot" is a fighting game where players will bob and weave while holding the Wii U GamePad and punch or grab with the analog sticks. Meanwhile, "Project Guard" is a twist on the popular tower defense genre where players use the Wii U GamePad to jump from camera to camera within a castle to blast away at encroaching waves of enemies.
Hopefully, we'll learn more about these games at Nintendo's noontime (Eastern Time) event.
It's Dangerous To Go Alone! Read This.
A Commenter Is You!