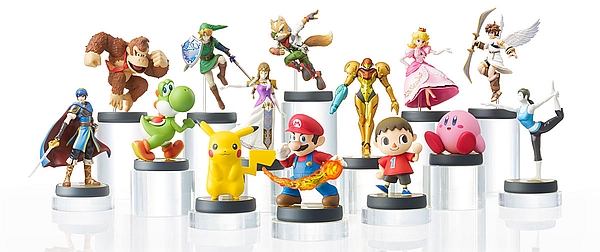 It's another mix of new and old on the Nintendo eShop this week.
Paper Mario was originally released for the N64 in 2001, so it officially qualifies as "old." But the RPG is still well-loved by fans and will surely be well-loved again as it makes its way to the Wii U eShop today. But if you're looking for something "new," Circle Entertainment has added Karous: The Beast of ReEden to the 3DS eShop this week. A vertically-scrolling shooter, The Beast of ReEden is a sequel to Karous, the final game officially released for the Dreamcast.
On the third hand, Amiibo Tap: Nintendo's Greatest Bits encompasses the best bits of new and old. It's "old" in that its a randomized collection of scenes from a variety of Nintendo-published NES and Super NES games currently available on the Wii U eShop. The "new" bit comes into play in how you access these scenes. Tapping any Amiibo figure to the Wii U GamePad will unlock a random scene from a game, and tapping a second time will spin the wheel again for a different random scene. Repeat until you've gorged on a ton of classic 8-bit and 16-bit games. Best of all, Amiibo Tap is available as a free download.
Also available this week is Heart Beaten. A minigame collection that asks players to literally destroy the heart of an unwanted paramour through a series of retro-styled levels. If you've ever wanted to punch a heart right in its heart, now's your chance.
More information on all of these games (and a few others) can be found after the break.
Wii U eShop

Amiibo Tap: Nintendo's Greatest Bits – Discover definitive moments from classic Nintendo games. Download the free Amiibo Tap: Nintendo's Greatest Bits application in the Wii U eShop and tap any Amiibo figure to the Wii U GamePad to unlock scenes from select NES and Super NES Wii U Virtual Console games. At least one Amiibo figure (sold separately) is required to use Amiibo Tap.

Paper Mario – After Bowser steals the Star Rod and kidnaps Princess Peach, Mario plots to rescue the seven Star Spirits and free the Mushroom Kingdom from the Koopa's rule. The turn-based battle system of this classic Nintendo 64 RPG will make fighting Bowser's baddies equal parts strategy and timing.

3DS eShop

Karous: The Beast of ReEden – Two sisters escape their fate as research subjects and fight to survive using aircrafts of war. Karous: The Beast of ReEden is a 3D vertical shoot 'em up game. The player's aircraft can use shields, different shots, bombs, and swords. Each of these will also level up the more they're used and increase in power. Additional weapons and items will unlock as the player progresses, as well.

Heart Beaten – What if someone loves you, but your only desire is to get away from them as fast as you can? Heart Beaten is a game in which you battle against the advances of an unwanted lover. Crush their heart in a series of 15 epic challenges: Take to the skies in a spaceship, drive a car, or take on the role of a shotokan karate master! All in the name of crushing someone whose only desire is to make you feel loved!

My Horse 3D: Best Friends – Your new best friend will depend on you, and let you ride him, but only if you care for him properly and build his trust. Enter beauty contests and jumping tournaments where you must work together to win, and so much more!