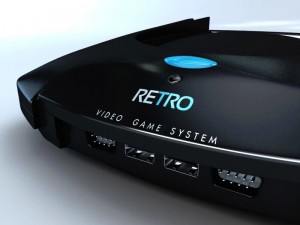 The cartridge-based console shuffled off this mortal coil more than a decade ago when Nintendo discontinued the Nintendo 64. The format had a great run, but the lower cost and higher storage capacity of compact discs killed it for good. Or did it? Retro Magazine's Mike Kennedy recently sat down with VentureBeat to talk about the Retro Video Game System, a new cartridge-based console that he plans to release next year.
Repurposing the case mold from the Atari Jaguar, Kennedy's Retro VGS will bring classic game design to a new generation using the time-tested delivery method of cartridges. However, the innards of the console will be brand new and the cartridges will use flash memory similar to that seen in USB sticks. The Retro VGS team has also partnered with Interworks to produce a branded controller for the system that evokes the fusion of classic and modern controller design found in the Wii U Pro Controller.
With the huge resurgence of retro-style gaming in recent years, Kennedy and his team have reached out to these developers in the hopes of bringing their games to the Retro VGS. The consolemaker cited Shovel Knight and Retro City Rampage as two games that he's reasonably confident will be released for the Retro VGS when it's available. At this year's PAX East expo, Yacht Club's Nick Wozniak told me they "very much want to" release a retail version of Shovel Knight. I imagine a retail cartridge version of the game would be a dream come true.
Kennedy considers 2D titles like Shovel Knight and Retro City Rampage "the sweet spot" for the Retro VGS. The system's main focus will be sprite-based games from the 16-bit era, but he's open to the idea of including enough power for developers to create polygonal PSX/N64-type games (or maybe even PS2-like games) as well.
A Kickstarter campaign to fund the creation of the Retro Video Game System will launch sometime this Summer with plans to release the cartridge-based console next year if all goes according to plan.