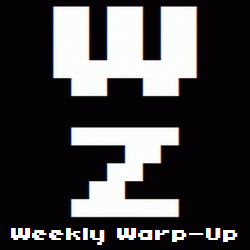 No, that's not a typo. Welcome to the Weekly Warp-Up, your weekly wrap-up of the biggest and the best articles posted at Warp Zoned this week…
Two highly-anticipated games were in the news this week, but for very diametrically opposed reasons.
Very early in the week, Guillermo Del Toro and Norman Reedus told the public they are no longer involved in the development of Silent Hills. A day later, Konami confirmed that the axe had been dropped on the in-development, but vowed to begin development on a new entry in the Silent Hill series. The horrific end to this story is almost scarier than anything Konami has cooked up for the franchise in years.
But on the other side of this continuum is the good fortune bestowed upon Playtonic's Yooka-Laylee. The developer teased the title and some early footage of their Banjo-Kazooie successor on Thursday. On Friday, they launched a Kickstarter campaign to a tremendously receptive audience. A little more than 40 minutes after that, the campaign reached its goal. Eager backers helped the campaign reach every stretch goal a day after that. It's an incredible success story and really makes you feel good about the gaming community.
Right in the middle of the Silent Hills/Yooka-Laylee Continuum is the "World Reveal" trailer for Activision's Call of Duty: Black Ops III. A new Call of Duty game is such an expected part of the video game landscape that few people had a big reaction to the footage… even though the final game will feature a battle with Terminator-style cyborgs.
Elsewhere on Warp Zoned this Week, I took a spin around the office and found out What We Played in April. And in between an Avengers: Age of Ultron break, the staff also put together a look at The Games of May. A review of the noirish horror game review of White Night and a new edition of Kickstart This! (featuring The Silent Roads, Dimension Drive, and Wildfire) round out the week.
Hit the break for more news from the week that was.
New Game Announcements
More News
New Videos
Rumor Has It
Gaming Etc
New Release Round-Up