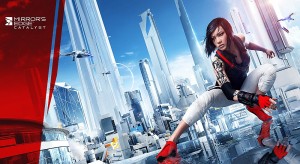 The 2015 E3 Expo beckons and Electronic Arts is getting the show started a bit early with a glimpse at Mirror's Edge: Catalyst. The new artwork displays the game's protagonist, Faith, doing what she does best… clinging to the side of a futuristic building. Hyper-modern skyscrapers pierce the horizon while the watchful eyes of a squad of surveillance helicopters hover at the edge of the scene.
We'll learn more about Mirror's Edge: Catalyst next week, but for now, Senior Producer Sara Jansson discussed the development team's vision on the game's official website:
The team has spent a lot of time re-evaluating every aspect of the game and making it a new experience. This is not a sequel, this is not Mirror's Edge 2. We have landed on a vision that honors the first game — pushing the boundaries of first person movement and diving deeper into the story behind our heroine Faith — but also brings a lot of great new, interesting gameplay and features to the experience for our players.
In addition to next week's E3 reveal, fans will get another look at that vision in Mirror's Edge: Exordium, a prequel comic series which will be published by Dark Horse. The first issue, which will be written by Narrative Director Christofer Emgard, will be available on September 9. The six-issue series will also feature art from some of DICE's in-house artists including Mattias Haggstrom, Robert Sammelin, Henrik Sahlström, Erik Persson, and Emgard himself. You can sneak a peek at the cover of Exordium's #1 at the Dark Horse Blog.
Mirror's Edge: Catalyst is currently in development for the PC, PS4, and Xbox One at DICE. It is expected to be released sometime next Spring.