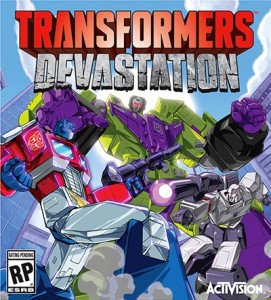 Thanks to Best Buy Canada, Platinum Games's secret E3 2015 announcement is now a little less secret. According to the retailer, Platinum is teaming up with Activision to produce Transformers: Devastation, a cel-shaded brawler that takes place during the beloved "Generation 1" era of the cartoon franchise. If the listing is accurate, Activision is planning to release the game for the PS3, PS4, Xbox 360, and Xbox One on October 6.
Players will get the chance to take control of five Autobots during the game: Optimus Prime, Bubblebee, Sideswipe, Wheeljack, and Grimlock. Best of all, original voice actors Peter Cullen (Optimus Prime), Dan Gilvezan (Bubblebee), and Frank Welker (Megatron and Soundwave) will return to lend the story a sense of authenticity. Here's what else fans can expect from the game:
Autobots face off against the Decepticons when Megatron discovers a way to harness the enormous power of plasma energy to cyberform Earth.

Face off against Megatron and battle it out with the Decepticons in Transformers: Devestation. Equipped with fast action capabilities, this game allows for instant robot to vehicle attacks, slam downs, counterattacks, and infinite combos for a unique master combat system. Five difficulty levels also deliver hours of intense gameplay.
Believe it or not, Transformers: Devastation will actually be the first time American audiences will get to control "Generation 1" characters in a video game. A handful of games based on the series have been created, but none have ever been released outside Japan. The most recent was Transformers, which was released for the PS2 in 2003.
You can relive the 80s with the first screenshots from Transformers: Devastation after the break. And don't forget, the first gameplay trailer will be unveiled during IGN Live on Tuesday, June 16 at 6:00 PM (Eastern Time).