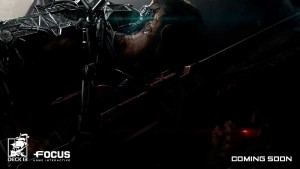 Publisher CI Games recently told the world that Lords of the Fallen 2 would not be developed by original developer Deck 13 Interactive. Rather than resting on their laurels, the German developer sought out a new partner and teamed up with another small publisher, Focus Home Interactive, for their next game. Currently untitled, Deck 13 plans to release an action RPG set in a "dystopian sci-fi future" in 2017.
Aside from a teaser image depicting a man augmented with cybernetic implants, we don't have much to go on just yet. We know the game will be an "original property" with a PC, PS4, and Xbox One release planned. Focus Home went on to add the action RPG will feature "innovative combat mechanics and an original character progression system based on modular upgrades gained through tight, visceral combat."
Focus Home Interactive's Managing Partner, Cedric Lagarrigue, also said: "We are ecstatic to announce this new partnership with one of the very best independent European development studios. We've been excited by Deck 13's new project since our first exchange with them, and as we've just got through the pre-production phase, we're fully convinced by their capacities to deliver one of the most exciting RPGs to come in the future."
We'll learn more about Deck 13's action RPG, including its title, at a later date.