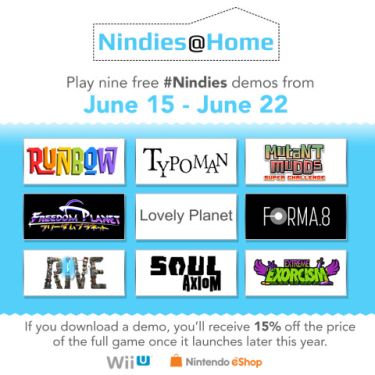 Before we delve into today's additions to the Nintendo eShop, the consolemaker wants to remind everyone that only four days remain in their Nindies @ Home demo offer. The program, which expires on Monday, June 22 at 12:00 PM (Eastern Time), gives gamers at home the chance to download nine demos that Nintendo brought to the 2015 E3 Expo as part of their "Nindies" initiative. There's some pretty great games in the list including Extreme Exorcism, Rive, Freedome Planet, Typoman, Runbow, Lovely Planet, Soul Axiom, Mutant Mudds Super Challenge, and Forma.8. I highly recommend exploring the "Nindies" if you own a Wii U.
Now then, onto this week's new releases, which also includes the Wii U Virtual Console release of Earthbound Beginnings, which was originally released for the NES back in 1989 and only in Japan. But if you're looking for something new to the Wii U eShop today, there are a few options…
Nintendo's Fire Emblem: The Sacred Stones was the second game in the strategy RPG series to be released outside of Japan when it originally launched for the Game Boy Advance in 2005.
Heavy Iron's Fat City looks to combine the "let's pull off a heist" plot of Ocean's 11 with the overhead viewpoint of Pac-Man.
Super Icon's Life of Pixel is a side-scroller that promises to take players through a history lesson of early gaming styles.
Jose Varela's Solitaire Dungeon Escape is a solitaire/puzzle game with magic card.
More details on these games, as well as a pair of new releases for the 3DS, can be found after the break.
Wii U eShop

EarthBound Beginnings – The Year is 198X. As Ninten, a young boy from Podunk with psychic powers, you must locate the eight melodies to aid the Queen of Magicant. Armed with your trusty baseball bat, you'll fight crazed hippies, zombies … and the occasional Magic Snail? Find out what's causing these strange phenomena in the first-ever U.S. release of the EarthBound Beginnings game!

Fire Emblem: The Sacred Stones – The kingdom of Renais lies in ruins, shattered by a sudden invasion from a former ally. In this Game Boy Advance classic, use cunning strategy to guide the royal heirs, Eirika and Ephraim, on their quest to rebuild Renais. Take advantage of your strengths and exploit your enemy's weaknesses, but be careful: If soldiers perish on the battlefield, they are gone forever!

Fat City – Chris Knox is the leader of a crew of former special ops personnel and highly-skilled hustlers. Help Chris and his team plan and pull off audacious heists from high-value targets to fill the coffers of a surreptitious crime syndicate in exchange for the life of a loved one.

In this action-puzzler with 60 targets spread throughout the five boroughs of New York City, players will use their cunning and brain power to plan raids and execute getaways to pull in the big bucks in the city that never sleeps.

Life of Pixel – Journey across the expertly-recreated worlds of more than a dozen vintage gaming systems, from Commodore 64 to Gameboy to SNES! Life of Pixel takes you on a historical tour-de-force across the rich landscape of 8-bit and 16-bit gaming.

Chock-full of tricks & traps, double jump challenges, gravity inversion, special power-ups, puzzles you must vanquish the enemy pixels and bosses who try to thwart you throughout your quest. Life of Pixel will show you the coolness of video gaming and the history of where it all began and how it evolved.

Solitaire Dungeon Escape – Your princess is locked up in the last room of an intricate dungeon, guarded by a dragon. The keys to open the doors, are split in 16 parts. The only way to get these parts is solving a card game with magic cards.

3DS U eShop

Comic Workshop 2 – Smoother, bigger and stronger than the previous title, Comic Workshop 2 brings you extra comfort and new functions to make even more amazing drawings!

Best of Board Games: Chess – Rediscover all the pleasure of chess in this timeless classic! Learn new strategies in Adventure mode and improve your game with nine additional challenges. Set the difficulty to match your level thanks to an advanced artificial intelligence (up to 2,100 Elo).