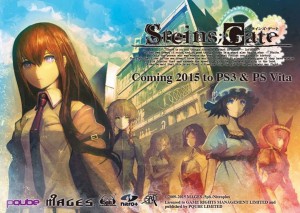 SteinsGate is one of the most famous "visual novels" ever to be released in Japan. After successfully launching the game in Europe for the PS3 and Vita earlier this month, publisher PQube has now set their sights on America. According to the publisher, the PS3 and Vita version of SteinsGate will be released in the US on August 25.
I know what you want to ask… what if I don't know anything about SteinsGate? And I'm glad you did, because here's what PQube had to say about the game:
SteinsGate follows a rag-tag band of tech-savvy young students who realize they can alter the past by using a microwave coupled with a mobile phone. Their experiments into how far they can go with their discovery begin to spiral out of control as they become entangled in a conspiracy surrounding SERN, the organisation behind the Large Hadron Collider, and John Titor, a mysterious forums poster who claims to be from a dystopian future ruled by that very same organization.
Players interested in SteinsGate will be able to choose between the standard edition and the limited El Psy Kongroo Edition, which includes a 126-page art book, a two-pin badge set, an exclusive Metal Upa Replica, and a special presentation box.
If you want to get your hands on SteinsGate before anyone else, PQube will bring a playable demo of the game to the Anime Expo, which will be held this weekend, July 2 through July 5, in Los Angeles.