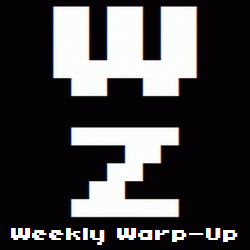 No, that's not a typo. Welcome to the Weekly Warp-Up, your weekly wrap-up of the biggest and the best articles posted at Warp Zoned this week…
It's all anybody can talk about, but the E3 Expo begins in literally ten hours. That's when Bethesda kicks things off with their E3 Press Conference (their first ever). We'll get our first look at Fallout 4 and Doom 4 and whatever else the company has up their sleeve. It should be a good time.
But we didn't spend all this week waiting for next week, did we? Sorta… Kinda… But not entirely! There were also the standard set of Pre-E3 announcements, which this week included a huge lineup of new titles from XSEED Games and the promise of an unannounced game from Platinum Games (which turned out to be Transformers: Devastation). Also, Electronic Arts has a very packed E3 2015 presentation that includes more than a dozen games.
We also published the latest edition of Kickstart This!, which focused on the crowdfunding campaigns for Defragmented, Pixel Starships, and Severed World. While you drool over AAA reveals for the next seven days, don't forget about the little guy.
Looking for more news from the week that was? Of course you are! You can find more news blurbs after the break.
Release Date Updates
Do you find it hard to keep up with all the latest release dates? So do we. That's why we regularly publish a digest of newly-announced and newly-changed release dates. The latest Video Game Release Calendar Changelog, featuring Fallout 4, Skylanders SuperChargers, Until Dawn, and many more, is now available for your perusal.
New Game Announcements
More News
New Videos
Rumor Has It
There's a better than even chance that Dark Souls III will be announced during the 2015 E3 Expo.
New Release Round-Up