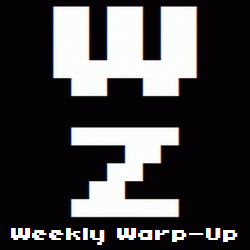 No, that's not a typo. Welcome to the Weekly Warp-Up, your weekly wrap-up of the biggest and the best articles posted at Warp Zoned this week…
It's time to put a lid on yet another E3 Expo. But this year's show wasn't an ordinary E3, it was a like a fan-fiction version of the big show where fans got everything they ever wanted including a Final Fantasy VII remake, The Last Guardian, Shenmue III, Earthbound Beginnings (AKA Mother), Gears of War 4, a Rare compilation including Battletoads and Conker, something new from Rare, and on and on and on. I still feel like I missed something after an entire week of E3-mania.
That said, our own Andrew Rainnie has some advice for Nintendo after their lackluster showing in his editorial, 5 Things Nintendo Needs to Hear After Negative E3 Reaction. But there isn't anything negative to say about the Nindies@Home offer, that was brilliant.
Anyway, our annual alphabetical rundown of everything E3-related is available after the break.
B
C
D
E
F
G
H
J
K
L
M
N
P
R
S
T
V
W
X
New Release Round-Up