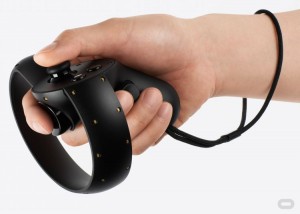 Oculus kicked off the Pre-E3 festivities with a Press Conference today focusing on their virtual headset, the Rift. A price tag or final release date weren't announced, but we did learn a very interesting piece of new information: every Oculus Rift will come bundled with an Xbox One controller and Microsoft's new Xbox One-to-PC controller adapter. While some Rift games might require a mouse and keyboard, the inclusion of the Xbox One controller as a standard input will possibly cut back on the trepidation some gamers have towards the headset.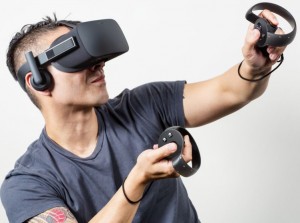 The other big news to come out of the Press Conference today was the unveiling of the Oculus Touch controller. The Oculus Touch is actually a pair of motion controllers and each half features an analog stick, two face buttons, and a trigger. I'm not sure what advantages it would have over a standard Xbox One controller, but Oculus says the controllers "let you take your VR games and experiences further than ever before" on the Rift's official website.
According to GameSpot, Oculus founder Palmer Luckey took the stage and said the Oculus Touch is perfect for introducing players to "hand presence, the sense of feeling as though your virtual hands are actually your real hands." Luckey went on to say: "This is critical to nailing the sense of overall presence. Once you have your hands involved, you really need tracking to be absolutely perfect, accurate, and low latency, or you're going to feel like your hands are dead."
Like all things Oculus-related, this is all very interesting, and a little weird. We'll see how it all comes together when the consumer version of the Oculus Rift launches in early 2016.