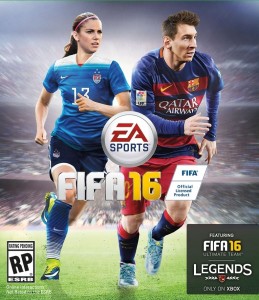 FIFA 16 will become one of the first games to include female teams and players when its released this Fall. But EA Sports isn't stopping there. In another first, the publisher also plans to include a trio of stars from the 2015 Women's World Cup on the game's cover as part of its series of region-specific covers for the game.
FC Barcelona's Lionel Messi is the "featured" cover athlete, and he will share the spotlight with the following footballers:
Alex Morgan, a Forward on the World Cup champion Women's National Team, will appear on the cover in the US.
Our neighbor to the North, Canada, will receive a cover featuring Christine Sinclair, the Canadian team's Captain.
Stephanie Catley will sprint alongside Messi on the Australian cover, along with a player to be named later on August 13.
The United Kingdom and Republic of Ireland will see Liverpool FC's Jordan Henderson on the cover.
C.D. Guadalajara's Marco Fabian will break out of the midfield as the cover athlete for Mexico.
Antoine Griezmann from Atletico Madrid will represent his home nation on the French cover.
Chelsea FC's Juan Cuadrado will appear on the cover throughout Latin America.
Finally, Borussia Dortmund's Shinji Kagawa will grace the cover in Japan.
"It is an incredible honor to be one of the first women featured on the cover of FIFA 16," said Alex Morgan. "I know people all over the world play this game and I'm really excited that FIFA 16 is putting such an important spotlight on women's soccer. And now to share the cover with today's greatest player is surreal."
"This year's World Cup showcased the unbelievable talent and skill in women's soccer," added Christine Sinclair. "I'm thrilled that EA Sports is celebrating female athletes in FIFA 16. To be featured in the game and to promote women's soccer with Alex is really special and another exciting step for women in sports."
FIFA 16 will be available for the PC, PS3, PS4, Xbox 360, and Xbox One on September 22. You can view all nine covers (including Messi's solo cover) at the official FIFA 16 website.