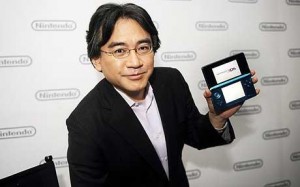 It's a sad day today, as Nintendo has announced the death of President and CEO Satoru Iwata due to a bile duct growth. He was 55 years old.
"Nintendo Co. Ltd. deeply regrets to announce that President Satoru Iwata passed away on July 11, 2015 due to a bile duct growth," was the company's only statement to the public. In the hours since the news was released, Nintendo of America posted the following message to Twitter and Facebook: "In remembrance of Mr. Satoru Iwata, Nintendo will not be posting on our social media channels today."
Iwata had been with Nintendo since the 1980s, starting out as a programmer at HAL Laboratory (where he worked on Balloon Fight and EarthBound, among others), before reaching the level of CEO in 2002. The executive also had a close relationship with Nintendo's devoted fans. He regularly made appearances at industry events, hosted Nintendo's monthly Nintendo Direct videos, and conducted Iwata Asks, a regular interview series in which he would talk to the developers of Nintendo's games. Iwata had been battling this illness for several years, missing last year's E3 Expo due to a surgery. But he made his final public appearance as part of this year's Nintendo Digital Event @ E3 just last month.
Above all, Iwata was a principled man in an industry that's dead set on nothing but making money and treating customers like cattle. When Nintendo failed to reach its financial projections in 2013, Iwata voluntarily cut his salary in half for the next five months.
There is no word yet who will be named Nintendo's next President and CEO, though it will be extraordinarily difficult to replace a man like Iwata.