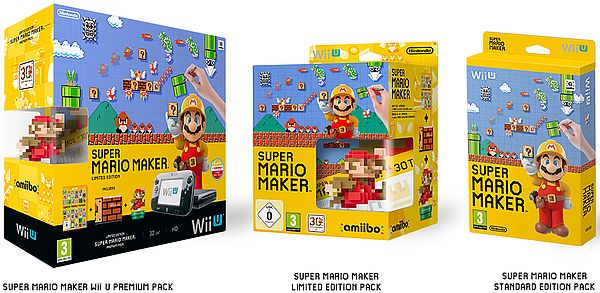 Nintendo has announced that the United Kingdom is going to receive a trio of amazing Super Mario Maker packages this September.
The game's standard edition will include the Super Mario Maker game disc, which features an extensive course-making toolset along with 100 pre-built course, and a full-color hardcover guide. If you'd prefer to obtain Super Mario Maker from the Wii U eShop, Nintendo still wants to give you the guide and will make a PDF available to download.
The Limited Edition package will include the game and the guide, but it'll come bundled with a 30th Anniversary Mario Amiibo in "Classic Colors." The pixelated design of this massive figure depicts Mario as he was in his Super Mario Bros. incarnation.
Finally, the Super Mario Maker Wii U Premium Pack will include the game, the guide, the "Classic Colors" Mario Amiibo, and a Wii U console.
All three Super Mario Maker bundles will be available in the UK (and throughout the rest of the world) on September 11. If you're uninterested in the game, but crave the the "Classic Colors" Amiibo, it'll also be available to purchase by itself on the same day. We don't yet know if these bundles will make their way to North America, but I've got my fingers crossed.
A second 30th Anniversary Mario Amiibo, featuring the plumber's more familiar "Modern Colors," will be released in the UK on October 23.