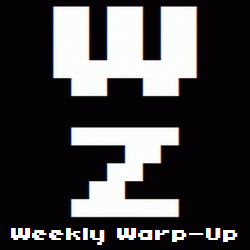 No, that's not a typo. Welcome to the Weekly Warp-Up, your weekly wrap-up of the biggest and the best articles posted at Warp Zoned this week…
This weekend's San Diego Comic-Com held some big surprises, but the biggest surely had to be Call of Duty: Black Ops III. Activision revealed the game will receive three different Special Editions, including one with a working mini-fridge. The publisher also unveiled the first trailer for the game's Zombies Mode, which stars Jeff Goldblum, Heather Graham, Neal McDonough, Ron Perlman, and Robert Picardo.
We also learned that Ken and Blanka have been added to Street Fighter V. Though we won't get our first glimpse at Blanka until the Brasil Game Show in October.
For those of us that couldn't attend the annual geek gathering, watching new trailers for upcoming games had to suffice and several publishers definitely delivered. The new Lego Dimensions featuring Doctor Who was insanely great, as was the new gameplay trailer for the 80s time capsule that is Transformers: Devastation. And speaking of time, Plants vs Zombies: Garden Warfare 2 took us on a tour of history in its new trailer.
If you are in San Diego right now, you should probably swing by the Capcom booth, because they're selling a wearable Mega Man Helmet at this year's Comic-Con.
Closer to home, we sat down with Geometry Wars 3: Dimensions Creative Director Craig Howard to talk about the game and the developer's future, including Lucid's next game, which is said to be an "exciting" arcade action game.
Finally, UK Correspondent Andrew Rainnie is back with another edition of Kickstart This! This time he looks at Defect, Disciples of the Storm, and The Nascent: An Anecdote of Aetherholme.
As always, additional news from this week can be found after the break.
Release Date Updates
Do you find it hard to keep up with all the latest release dates? So do we. That's why we regularly publish a digest of newly-announced and newly-changed release dates. The latest Video Game Release Calendar Changelog covers as many E3 2015 announcements as we could find including Gears of War: Ultimate Edition, Just Cause 3, Xenoblade Chronicles X, and many more.
New Game Announcements
More News
New Videos
Gaming Etc.
The live-action adaptation of Mighty No. 9 will be a feature-length film.
New Release Round-Up