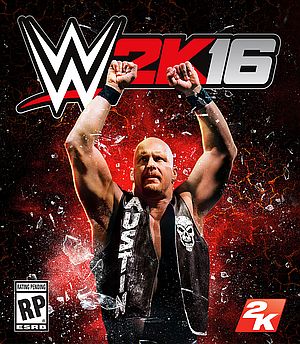 One of professional wrestling's most famous names, Stone Cold Steve Austin, will step back into the squared circle this Fall as the cover athlete for WWE 2K16. In addition to serving as the game's spokesman, Austin will also lend his wrestling expertise to the game's campaign mode.
"I've had the privilege of working with 2K to support the WWE 2K franchise, and now I'm absolutely honored to serve as the WWE 2K16 cover superstar," said Stone Cold Steve Austin. "No disrespect to the previous and extremely deserving WWE 2K cover Superstars – Dwayne 'The Rock' Johnson and John Cena – but it's about time the franchise raised some hell with yours truly on the cover. I look forward to injecting a dose of 'Texas Rattlesnake' into this year's game and overall campaign."
"Stone Cold Steve Austin's iconic style, unmistakable personality, and worldwide reverence from the WWE Universe make him the ideal fit for WWE 2K16," said Chris Snyder, Vice President of Marketing at 2K. "Not only will Austin grace the video game's cover, but he's involved in shaping its creative direction. Through his numerous contributions, inclusion on the largest roster in franchise history and the game's to-be-announced features, WWE 2K16 is certain to put everyone on notice."
In development at Yuke's and Visual Concepts, WWE 2K16 will be released on October 27 for the PS3, PS4, Xbox 360, and Xbox One. You can watch Austin stare menacingly at the camera in 2K's "Cover Superstar Announcement" video after the break.