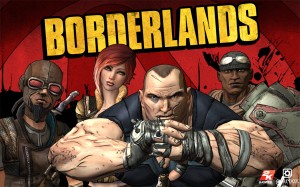 Gearbox Software, Take-Two Interactive, and Lionsgate have announced they are teaming up with producers Avi and Ari Arad to create a Borderlands movie. The fivesome's current plan is to go big with Borderlands and turn it into a "tentpole" film that's befitting of the Borderlands name.
For a better reference point, it might be helpful to look at some of the past projects that Avi and Ari Arad have been responsible for. The executives got their start in the comic book realm, producing Blade for New Line, X-Men for Fox, and Spider-Man for Sony. They've also helped guide those franchises through multiple sequels and even a reboot or two (yes, they're also responsible for X-Men: The Last Stand and The Amazing Spider-Man 2). More recently, the duo has branched out into video game adaptations, with plans to produce films based on Uncharted and Metal Gear Solid.
Lionsgate also sees the potential in a Borderlands film, with Co-Chairs Rob Friedman and Patrick Wachsberger quoted as saying: "The Borderlands games don't pull any punches, and we'll make the movie with the same in-your-face attitude that has made the series a blockbuster mega-franchise."
That said, the adaptation is currently lacking actors, writers, and a director… so it might be a long time before we get to see it. Hopefully, we'll learn more about the Borderlands movie during the "Inside Gearbox Software" panel, which will be held at PAX Prime later today.