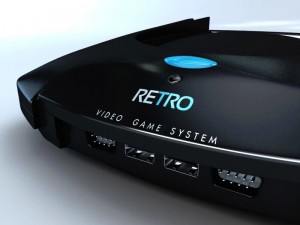 Retro Media, the people behind the Retro VGS console, have updated their online FAQ and confirmed a few more details about the cartridge-based system.
On the hardware side, the Retro Media plans to eschew the use of Secure Digital (SD) cards or USB flash memory drives in the Retro VGS. Instead, the company has opted for an archival type of EEPROM cartridge that is rated to retain data for 100 years. This attempt to create a timeless console even bleeds into the system's firmware, which will be locked and update free.
Developers will have the ability to take a Retro VGS cartridges and add additional functionality to them, similar to Nintendo's use of the Super FX chip, to produce games not possible by the base system. This process will also allow developers to rewrite the console's hardware configuration to more closely resemble a series of classic consoles:
The Retro VGS will have its own cool configurations (ways to make a game), and it can also be hardware-configured to be other old-school architectures that a lot of developers are used to developing for. Specifically, and at this current time, it's an FPGA and ARM system. If a developer wants to make a Neo Geo game, they would include an HDL (Hardware Description Language) file that configures the FPGA to operate like a Neo Geo. The developer would code their game to run against the Neo Geo platform. This HDL code along with the actual Neo Geo game will be on the cartridge. Once that cartridge is placed in the Retro VGS, it will become a Neo Geo and play that game. So in this case, the language is: 68000 and Z80 code.

If you wanted to do a new Atari 2600 styled game, you'd include a 2600 HDL file that configures the FPGA to replicate the logic of the original 2600 hardware and then you'd include your new 2600 game on that cartridge too. These two files are then paired up on the cartridge and when plugged into the RETRO VGS, will turn the console into a 2600.
Finally, Retro Media confirmed that the system will come bundled with a pack-in game. Adventures of Tiny Knight, developed by CollectorVision, will be a RPG platformer that's heavily inspired by Westone's Wonder Boy series.
A retail price for the Retro VGS has yet to be determined, but the Kickstarter campaign to help fund the creation of the console will begin on September 14.