Next wave of Amiibo figures (including Zero Suit Samus, Ganondorf, Dr. Mario, more) will be available on September 11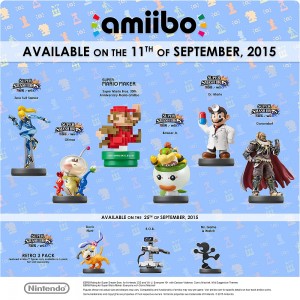 Super Mario Maker definitely won't be lonely on store shelves on September 11, as Nintendo has announced the next wave of Amiibo figures will also be available on that date. In addition to the "Classic Color" version of the 30th Anniversary Mario figure, Super Smash Bros. For 3DS/Wii U players will be able to pick up figures based on Bowser Jr., Dr. Mario, Ganondorf, Olimar/Pikmin, and Zero Suit Samus.
Another set of Smash Bros. figures will follow on September 25 in a "Retro 3 Pack." The Duck Hunt Dog, Mr. Game and Watch, and R.O.B. will be packaged together for players who fondly remember the 1980s. Another three-pack, this one featuring the Mii Fighters, will be available in November.
Finally, a release date for the "Modern Color" version of the 30th Anniversary Mario figure will be announced at a later date.
It's Dangerous To Go Alone! Read This.
A Commenter Is You!