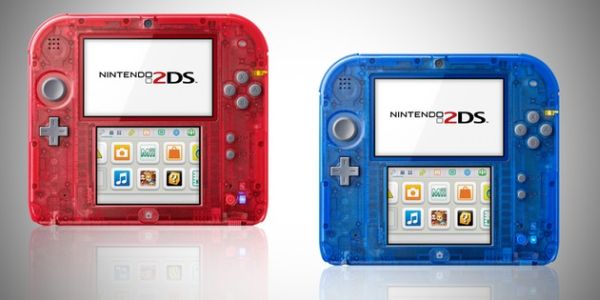 Nintendo has announced that their 2DS handheld will receive a price drop very soon. Currently available at a retail price of $129.99, the portable system will be permanently discounted to $99.99 on August 30. Even at this lower price, every 2DS box will still contain a download code for Mario Kart 7.
"At a suggested retail price of $99.99, [the] 2DS is an even more attractive introductory option for first-time gamers," said Scott Moffitt, Nintendo of America's Executive Vice President of Sales & Marketing. "The new lower-priced hardware combined with the strong lineup of new games launching this year and arguably the best library of games in this generation makes it a great time to be a Nintendo fan."
While Nintendo doesn't talk about the 2DS much, it is an interesting alternative in their handheld lineup. It doesn't have the clamshell design or 3D display options of the 3DS, but the 2DS is compatible with nearly every 3DS game.
This price drop is Nintendo's first salvo in a major Fall push, which includes a ton of semi-large 3DS releases (which are all playable on the 2DS) including Animal Crossing: Happy Home Designer, Chibi-Robo! Zip Lash, Pokemon Super Mystery Dungeon, The Legend of Zelda: Tri Force Heroes, and Yo-Kai Watch.