It's a rare game that credits the composer as a co-developer, but that's what you get with Spectra, an overhead racing game that's set to a chiptune soundtrack created by Niamh "Chipzel" Houston (best known for her work on Super Hexagon). British developer Gateway Interactive took her bleeps and bloops and laid them over a procedurally-generated raceway that expands out into space using arcade-style wireframe graphics. The music and visuals complement each other nicely, but Spectra's "keep it simple" style goes a bit too far.
Platforms: PC, Xbox One (Version Played)
Publisher: Mastertronic
Developer: Gateway Interactive + Niamh "Chipzel" Houston
Genre: Procedurally-Generated 1980s-Inspired Overhead Racer… IN SPACE!
Release Date: July 10, 2015
ESRB Rating: Everyone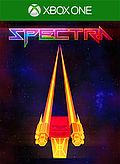 Booting up Spectra for the first time, you're greeted with a single gameplay mode that asks you to survive for as long as you can. The game includes ten tracks, but Gateway isn't referring to the number of courses available with the word "track." Instead, each "track" actually denotes a different song composed by Chipzel for the game. The courses themselves are rather inconsequential, as the generation engine only has a small number of parts to work with, and creates courses that generally follow a very similar blueprint.
Each course will include a variety of twists and turns, along with a series of obstacles and other embellishments. A countdown clock is situated in the top right, ticking off the seconds remaining in the song. As I said before, the courses definitely exist in service to the songs, as there's no finish line. When the song ends, players are instantly plucked from the raceway and the game is over. But to make it to the end, you'll have to avoid barriers that can knock your ship off the course. Driving over a Speed Burst will temporarily increase your Score Multiplier, while catching air and narrowly avoiding barriers both offer bonus points.
And that's pretty much all there is to say about Spectra. Once you've unlocked all ten tracks, a Hardcode More that adds more barriers and a higher top speed opens up. And there's some light strategy as you'll need to decide when's the best time to bank an accumulated bonus, but what you see at the end of minute one is exactly what you'll see at the end of day one or week one or month one. However, what Spectra lacks in depth, it makes up for it with the design of its presentation.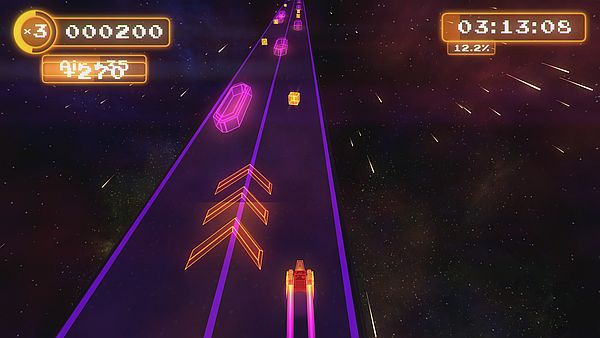 Gateway Interactive went back to the arcade machines of the 1980s and extracted a classic wireframe look for Spectra. Sitting atop a perpetually moving field of stars, the road you drive on is little more than a solid sheet of neon purple divided by three brightly-colored solid lines. Likewise, your ship is a handful of polygons arranged in a vehicle-like shape. Even the game's golden-colored Pickups and pink barriers are just glowing shapes bolted to the course. It may be simple, but simple works for Spectra. This retro-futuristic style and pulsing soundtrack strip away the rest of the world, leaving just you and your controller. Weaving in and out of the barriers is mesmerizing, and the game wouldn't work half as well without Chipzel's fantastic soundtrack. Each track is unique, yet all ten are perfect for the arcade vibe that Gateway Interactive was going for.
Spectra is simple, but it offers plenty of retro thrills for those who want to embrace it. If it had existed in my youth, I can even picture my younger self pouring quarter after quarter into a Spectra arcade cabinet. The game's lack of depth is a problem, but I'm sure I'll drop into Spectra from time to time when I've only got a few minutes to play.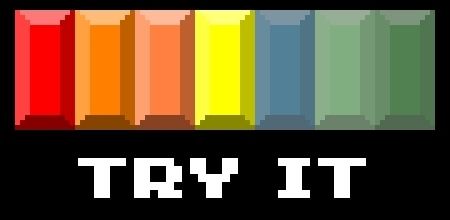 Review Disclosure: A review copy of Spectra was provided by Gateway Interactive for the purposes of this review.