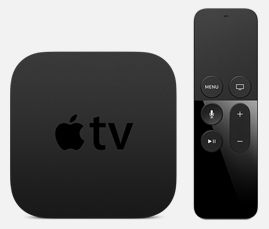 Even though a tidal wave of Android-powered microconsoles have been released over the years, Apple was content to let the Apple TV stream pictures and video. That all changes this Fall with the release of the "All-New Apple TV," which will be available in late October in 32GB ($149) and 64GB ($199) models.
The All-New Apple TV will be powered by tvOS, a new operating system that'll let developers create games and apps specifically designed for a bigger screen. Every All-New Apple TV will come packaged with Siri Remote, a remote that includes a glass touch surface that will handle "both small, accurate movements as well as big, sweeping ones." Users will be able to speak to the Siri Remote for searching and motion controls (including a built-in accelerometer and gyroscope) will also be included in the controller's bag of tricks.
While the All-New Apple TV will make use of iOS gaming technologies like Metal and Game Center, Apple was mum on the microconsole's compatibility with MFi Game Controllers. However, the All-New Apple TV's powerful A8 chip means that, from a technical standpoint, it should certainly be able to handle console-quality games. And it's definitely getting those games as Apple TV versions of Rayman Adventures, Disney Infinity: Star Wars, Shadowmatic, Crossy Road, and Guitar Hero Live were all announced during today's event.