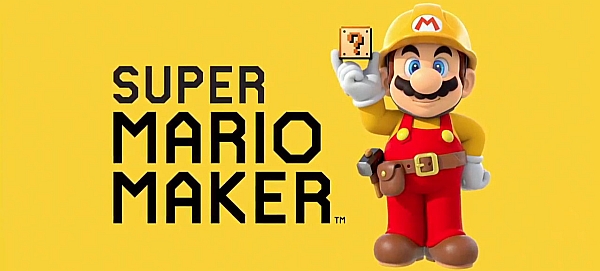 You couldn't design a better Nintendo Download this week if you tried. But then, any designers in the audience will be quite busy beginning tomorrow when Super Mario Maker is added to the Wii U eShop. More than a mere Mario level editor, Super Mario Maker will include dozens of pre-built courses and the option to download an unlimited number of levels from the Wii U community. Also, you can use an Amiibo figure to drop Link (and many other characters) into a Mario game for the first time.
The Wii U eShop received a bounty of new releases this week in addition to Super Mario Maker. For starters, Tecmo's famous football sim for the NES, Tecmo Bowl, is now available through the Virtual Console. Seems appropriate on Kickoff Thursday. Also available to download today are a pair of puzzling adventures including steampunk caper The Swindle and the first-person environmental brain-twister QUBE: Director's Cut.
Finally this week, Sega will bring Japan's most famous blue-haired idol, Hatsune Miku, to the 3DS in the rhythm action game Hatsune Miku: Project Mirai DX.
More information on all of these titles (and a few others) can be found after the break.
Wii U eShop

Super Mario Maker – The Mario experience of your dreams is here and it's bursting with creativity … including yours. Play a near-infinite number of inventive Mario courses from Nintendo and players around the world. Or even make your own levels on the Wii U GamePad controller. What was impossible in past Mario games is now impossibly fun. Let your imagination run wild. (Available September 11)

Tecmo Bowl – Match your gridiron skills against the computer or another human player in this popular football game from the NES console. From the snap, control of every pass, run and tackle is in your hands. The player can select from 12 teams. Choose from two run plays and two pass plays on offense. Defense consists of trying to guess which offensive play the opponent will select and then taking control of one of the defensive players before the snap. A simple power-meter system is used for kicking field goals, extra points and punts.

The Swindle – The Swindle is a steampunk cybercrime caper about breaking into buildings, hacking their systems, stealing all their cash, and quickly running away again before the police show up.

QUBE: Director's Cut – QUBE: Director's Cut is a brain-twisting first-person puzzler. Using special high-tech gloves, you manipulate the environment around you – build bridges, shift walls, open new paths – in order to journey deep into a mysterious giant cube hurtling through space towards Earth and destroy it from within before it eradicates all life on our planet!

Star Sky – Star Sky is not a game for everyone. It is a slow-paced game of exploring different choices. There are secrets to unlock, and for those who make it to the end, there is alot of interesting things to reflect about. It is also a peaceful experience and a game about enjoying the ambience the world around you can provide. Make the choices, watch what happens, unlock the secret.

Explody Bomb – In Explody Bomb you must play the role of aggressor and defender. On the television screen you must shoot down all enemies that attempt to attack you! On the Wii U GamePad you must guide your bomb between all obstacles! Quickly divert your attention between the two displays to try to rack up the highest score possible! How far can you make it before either your plane or your bomb is destroyed? Try out Explody Bomb and try to obtain the highest score!

Funky Physics – In this simple yet challenging physics-based game your goal is to remove all the green blocks from the screen. To reach your goal you can tap on big blocks to split them into four smaller parts. On some level you can even use special blocks like explosive or power blocks. Do you have what it takes to solve all the 32 levels with three stars rating?

3DS eShop

Hatsune Miku: Project Mirai DX – The best things come in small packages. Join the Miku phenomenon by expressing yourself through fun creative tools, sharing your cute customizations and experiencing some of the best music from the world's favorite digital diva.