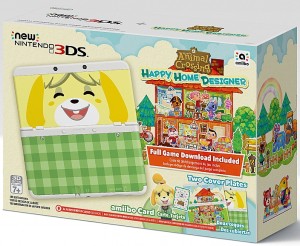 Nintendo's New 3DS XL, which includes a second analog stick and built-in NFC support, received a North American launch in February. Fans were immediately smitten with the redesigned handheld, but were slightly disappointed that American gamers could only purchase the bulkier XL model and not the standard size New 3DS model.
That all changes this September with the release of the Animal Crossing: Happy Home Designer system bundle on September 25. The package, which will retail for $219.99, includes the more compact New 3DS, a digital copy of the game, two cover plates, and one Amiibo Card.
In other 3DS news, Nintendo will release a "Hyrule Edition New 3DS XL" on October 30. Priced at $199.99, the handheld features a gold chassis with an intricate Hylian Crest design on the front. The handheld's design is inspired by The Legend of Zelda: Tri Force Heroes, which will be released on October 23, but it won't include a copy of the game. For emphasis, let me repeat that… the "Hyrule Edition New 3DS XL" WILL NOT include a copy of The Legend of Zelda: Tri Force Heroes.
Worldwide, Nintendo has sold more than 53 million systems in the 3DS family of handhelds since it first became available in 2011. Even though most gamers already own one, a new design or two is never bad for Nintendo's bottom line.