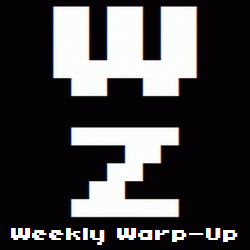 No, that's not a typo. Welcome to the Weekly Warp-Up, your weekly wrap-up of the biggest and the best articles posted at Warp Zoned this week…
I could make some grand statement about the changing weather of the season and correlate it with the general under-the-weatherness that the Warp Zoned staff has been going through for the past few days, but I just don't have the energy. Instead, I'm just going to say I'm sorry that we haven't written more recently. But some pretty neat things have been happening this week, so let's talk about them.
Apple finally did what everyone expected them to do a long time ago and revealed the gaming-capable All New Apple TV this week. It'll be out in late October and support console-style controllers like the SteelSeries Nimbus.
Also, Shigeru Miyamoto surprised everybody by saying that Pikmin 4 is "very close to completion." The game was first discussed by Nintendo executives last year, but we hadn't heard anything else about it since then. So to find out that it's almost done is pretty exciting.
However, one game that's not close to being completed is Kingdom Hearts III. Director Tetsuya Nomura said this week that development on the "basic systems" is done, but the rest game is very far from finished.
More news from this past week (again, a lot of which is very neat) can be found after the break.
Release Date Updates
Do you find it hard to keep up with all the latest release dates? So do we. That's why we regularly publish a digest of newly-announced and newly-changed release dates. The latest Video Game Release Calendar Changelog covers as many recent release date announcements as we could find including Star Fox Zero, Deus Ex: Mankind Divided, Uncharted 4: A Thief's End, and many more.
New Game Announcements
Pokemon Go is an augmented reality game that'll let you catch Pokemon out in the real world through your mobile devices in 2016.
More News
New Videos
New Release Round-Up