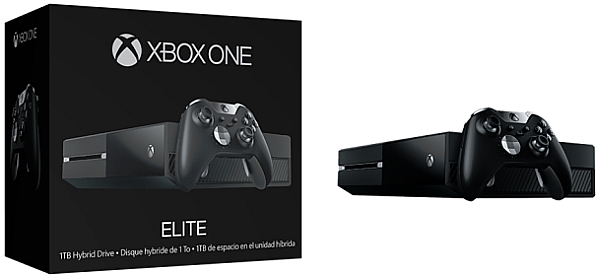 Microsoft will add another option to their growing number of Xbox One bundles this November with the Xbox One Elite Bundle. The Elite Bundle will include several upgrades over a standard Xbox One package including a 1TB Solid State Hybrid Hard Drive and and an Elite Controller.
According to Major Nelson, the Solid State Hybrid Hard Drive "stores frequently-accessed files on a solid state partition and optimizes system performance," so players will be able to get to their games quicker. The Elite Controller is Microsoft's latest redesign of the stock Xbox One controller, offering "interchangeable paddles, Hair Trigger Locks, and high-performance construction."
As you might have guessed, including these items will slightly inflate the price of the Xbox One Elite Bundle. The package will retail for $499 (a $100 premium over a standard Xbox One bundle) and it'll be available exclusively through the Microsoft Store and GameStop on November 3.
In the more immediate future, Major Nelson also revealed the Lunar White Wireless Controller this week. With a white body and gold-colored D-Pad and Triggers, the controller has a swanky style fit for a supervillain. You can pick it up exclusively at GameStop in "late September" for $64.99.