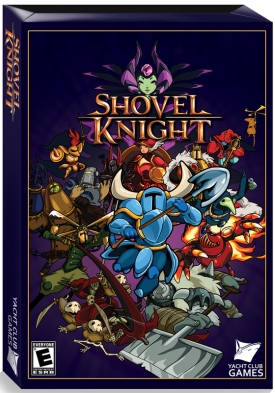 Yacht Club Games dug themselves into a bit of a hole with the recent release of the Plague of Shadows expansion for Shovel Knight. Finishing touches for the add-on took a bit longer than expected, and a desire to include it on the game disc has forced the developer to push Shovel Knight's planned October 13 retail release to November 3.
Unfortunately, it looks like the Xbox One edition of the game won't be released at all. Writing on their official website, "We really gave it our best effort, but unfortunately, because of publishing policies on that platform that are totally beyond our control, we couldn't make it happen." The developer will continue to negotiate with Microsoft for the right to publish a retail version of Shovel Knight on the Xbox One, but as of right now, it's in "indefinite limbo."
Yacht Club also revealed the retail version of Shovel Knight will be priced at $24.99 (instead of the expected $19.99) when it's released. The developer said they were forced into this pricing tier to keep the game out of the dreaded "bargain bin." However, to make up for the $5 price increase, all copies of the game will come with a download code for the Jake Kaufman-penned soundtrack.
So, to recap… The physical version of Shovel Knight will be released for the 3DS, PS4, and Wii U on November 3, but the Xbox One launch has been indefinitely postponed. The game will also be priced at $24.99, but that cost will include a free soundtrack download.
Also, don't forget that Shovel Knight is now available to download on the 3DS, PC, PS3, PS4, Vita, Wii U, and Xbox One through each platform's digital storefront.