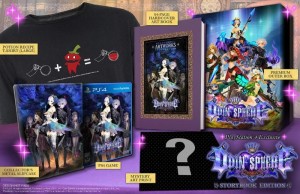 Odin Sphere: Leifthrasir is a side-scrolling RPG with a tale that unfolds through chapters in a magical storybook. So it seems rather fitting that Atlus will also release a special Storybook Edition of the remake. Available exclusively for the PS4, Leifthrasir's Storybook Edition will be available in Spring 2016 for $79.99.
The Storybook Edition will include:
Premium Outer Box – All the contents in the premium edition will be packaged in a large, sturdy outer box.
Collector's Metal Slipcase – The PS4 game will come nestled in a special metal slipcase with the game's key art on the front, and a not-yet-revealed image on the reverse.
64-Page Hardcover Art Book – Filled with the original drawings from the legendary George Kamitani and Vanillaware.
Potion Recipe T-Shirt – This large-size t-shirt is emblazoned with a helpful reminder of one of the more common uses of Alchemy in Odin Sphere Leifthrasir: turning the living Mandragora plant creatures (Habaneristos, in this case) into potions vital for survival.
Art Print – Also included with the game will be a high-quality art print with another not-yet-revealed (but different) design.
A softcover version of the Art Book will be bundled with the PS3 and Vita editions of Odin Sphere: Leifthrasir, which will also be available next Spring.