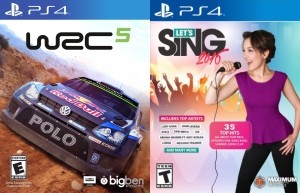 The Fall gaming rush is coming to an end. Just two new titles will be available on store shelves this week and neither is likely to set the world on fire.
First up is WRC 5 from Bigben Interactive. Set to be released for the PS3, PS4, Xbox 360, and Xbox One, WRC 5 is billed as "the only rally game this year" on consoles. The developer also promises a "new physics and rendering system," as well as an "entirely overhauled Career Mode."
Also available this week is Let's Sing 2016 for the PS4 and Wii. Published by Maximum Games, Let's Sing 2016 is yet another karaoke game that features 35 hit songs from some of today's biggest artists including Laday Gaga, John Legend, Avicii, Sam Smith, Sia, Ariana Grande, Lorde, and Meghan Trainor.
That's it for this week's retail releases, but more details on this week's digital releases will be available in a few days.