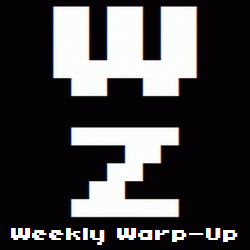 No, that's not a typo. Welcome to the Weekly Warp-Up, your weekly wrap-up of the biggest and the best articles posted at Warp Zoned this week…
I guess, technically, this week's Weekly Warp-Up could be called the "Fallout 4 Fallout Edition," but that might be going too far. Whatever you want to call it, Bethesda's epic RPG is now available and fans are going nuts for it. These fans include our own Nicole Kline, who awarded Fallout 4 a 7/7 in her review.
And speaking of epic games… retailers have begun to publish their Black Friday advertisements this week. Target and Best Buy are first out of the gate and they've got some especially good discounts on console bundles this holiday season.
But if you'd rather root for the underdog, UK Correspondent Andrew Rainnie is back with a new collection of compelling crowdfunding campaigns in the latest edition of Kickstart This! You might not have ever heard of The Nullpoint, Cold Blooded, Grey Night, and Failsafe… so we recommend you remedy that.
We've got more news from the week that was after the break.
New Game Announcements
More News
New Release Round-Up