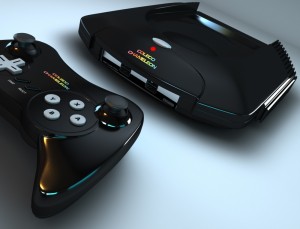 After their disastrous Indiegogo campaign ended in November, the team behind the Retro VGS has found a new partner to help bring their cartridge-based console to market: Coleco. Yes, the company behind the mostly forgotten Colecovision is getting back into the console game with the newly rebranded Coleco Chameleon.
Just like when it was known as the Retro VGS, every game released for the Coleco Chameleon will be manufactured in a cartridge format that is "long-lasting" and "durable." Players will be able to choose from compilations of older classics, along with new titles likeThe Adventures of Tiny Knight, GunLord, and Read Only Memories that are developed using an 8-bit, 16-bit, or 32-bit style.
Mike Kennedy, the President of Retro VGS, said: "The Coleco Chameleon is a love-letter to all the classic cartridge based gaming systems that came before it and we love the fact it will succeed Coleco's successful Telstar and Colecovision product lines. It will take gamers and their families back to a simpler time where games were all about great gameplay and fun factor."
Even with the name change, the Coleco Chameleon is still on track to launch in 2016. And attendees of the 2016 New York Toy Fair will get a chance to try it out at the Coleco booth.