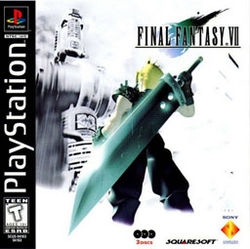 Have you taken a look at the ridiculous new trailer for the Final Fantasy VII Remake yet? If not, I suggest you should. And if you're feeling nostalgic, the planned PS4 port of the PSone original is now available to download from the PlayStation Store. Believe it or not, Sony actually added a huge number of games to the PlayStation Store today, check 'em out:
Vlambeer's roguelike-like top-down shooter Nuclear Throne is now available for the PS4 and Vita. This one has been available through Steam Early Access (and on the convention circuit) for a long time, but it's exciting that it's finally complete.
Supergiant's action RPG Bastion, which was previously released for the PS4, is now available for the Vita as a Cross-Buy title.
The Bit.Trip, the entire Bit.Trip series collected in a single PS4/Vita Cross-Buy package.
Fat Princess Adventures, a "comical co-op action RPG" for the PS4 for one-to-four players.
Guns Up!, a free-to-play side-scrolling strategy game for the PS4 that merges "enemy base invasion with tower defense"
More details on all of these titles can be found after the break. And don't forget about all the new PS2-On-PS4 games, which are also available today.
PS4 + PS Vita Cross-Buy Games

Nuclear Throne ($11.99)
The idea behind Vlambeer's Nuclear Throne is simple: it's a post-apocalyptic roguelike-like top-down shooter. Not 'the final hope of humanity' post-apocalyptic, but 'humanity is extinct and weird mutants and terrifying monsters now roam the world' post-apocalyptic. All you need to do is take control of one of those mutants and shoot the things trying to kill you. Use simple weaponry like quintuple-barreled bazookas, super plasma cannons or exquisite cursed laser miniguns. Or the game might just hand you a screwdriver. Deal with it. Mutate some new limbs and abilities as you go, and become the ultimate Throne hunter. Find secret vaults with game-changing crowns, discover rare overpowered weaponry, or compete in the worldwide Daily and Weekly challenges. All these things and more you could do if only you were good at this game. Can you reach the Nuclear Throne?

The Bit.Trip ($9.99)
The Bit.Trip is the ultimate way to play all six games in the award-winning Bit.Trip series, including Bit.Trip Runner, the first auto-running rhythm platformer on Earth! This tough-as-nails collection of retro-inspired music/rhythm games will make you laugh, cry, scream, curse, and perhaps even bleed. And for those trying to keep an eye on their blood pressure, we've also added in the ability to toggle the difficulty in each game. Because we care.

PS4 Games

Final Fantasy VII ($15.99)
Cloud, a former member of Shinra's military organization, SOLDIER, joins the anti-Shinra resistance group AVALANCHE, despite caring little for their motives. During one of the group's attempts to stop the company, they learn of the return of Sephiroth, Cloud's nemesis, and that with his reemergence, the planet is in greater danger than anyone had expected. With the fate of the world riding on their success, Cloud and his allies set out to quell this deadly threat.

Fat Princess Adventures ($19.99)
Fat Princess Comes to the PS4 system: Fat Princess Adventures features the classic franchise art style, but uses the power of the PS4 system to deliver CGI-style graphics, including enhanced character models and new animations, full screen effects and next-gen lighting.

Guns Up! (Free)
Guns Up! is a free-to-play side-scrolling strategy game that pits players against each other in a battle to destroy enemy bases to increase their own army's strength. Guns Up! combines the fun of enemy base invasion with tower defense, for an experience like no other on the PS4.

PS Vita Games

Bastion ($14.99)
Bastion is an action role-playing experience that redefines storytelling in games, with a reactive narrator who marks your every move.