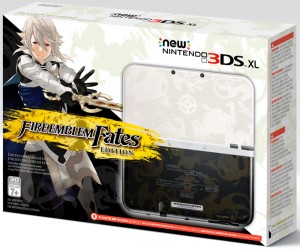 While European gamers will get it on February 26, Nintendo has announced that Bravely Second: End Layer will be released in North America on April 15. A Collector's Edition of Bravely Second (priced at $69.99) will be available for those who want to spend a little bit extra and it'll include the game, a 10-song soundtrack CD, and a 250-page art book.
If you're unsure if Bravely Second is the game for you, Nintendo also revealed that a special demo version of the game, Bravely Second: End Layer – The Ballad of the Three Cavaliers, will be available to download through the 3DS eShop sometime before April 15. And you might want to grab the demo even if you're planning to buy Bravely Second as the story you'll experience in The Ballad of the Three Cavaliers, along with new jobs and areas to explore, will be unique to the demo.
Bravely Second isn't the only RPG that Nintendo has on their release schedule. The consolemaker will release Fire Emblem Fates on February 19 and plans to heavily support the game with a series of downloadable maps. The first one, imaginatively titled Map Pack 1, will be available alongside the game's launch on day one. Nintendo added that the Revelation expansion, which will offer a third path beyond the Conquest or Birthright scenarios, will be released on March 10. A special edition of Fire Emblem Fates that includes all three storylines will be released on the same day for $79.99.
Finally, if you don't have a 3DS yet, Nintendo will release a fancy Fire Emblem Fates-themed New 3DS XL system for $199.99 on February 19. Unfortunately, the game will be sold separately.