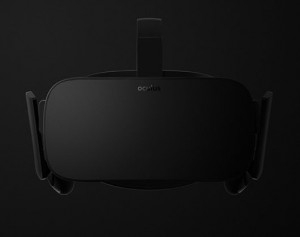 After all the waiting, Oculus has finally announced a release date for the Oculus Rift. In a new post on the Oculus Blog, the company has revealed that the virtual reality headset is now available to pre-order and will ship to consumers on March 28 (with addition headsets available in stores in April). But make sure your finances are in order as the Rift will retail for the budget-busting price of $599.
The complete Oculus Rift package will include the headset, a sensor, the Oculus Remote, an Xbox One controller, and a copy of Lucky's Tale, a VR platformer developed in-house by Oculus. All pre-order customers will also receive a copy of Eve: Valkyrie, a dogfighting game from CCP Games. Running this software through the Oculus Rift will require a fairly powerful PC, and the company has posted a list of system requirements so users can get the "full experience" from their virtual reality headset:
Oculus Rift: Recommended System Requirements

Graphics Card: NVIDIA GTX 970 / AMD R9 290 equivalent or greater
Processor: Intel i5-4590 equivalent or greater
Memory: 8GB+ RAM
Output: Compatible HDMI 1.3 video output
Input: Three USB 3.0 Ports + One USB 2.0 Port
Operating System: Windows 7 SP1 64-bit or newer
But if you'd rather buy all the necessary equipment at the same time, Oculus will begin pre-selling Oculus Ready PCs (bundled with a Rift headset) in February. Prices for Oculus Ready PCs will start at $1,499.