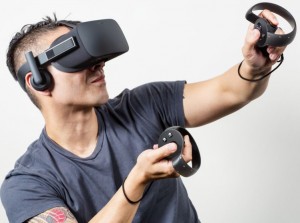 2016 is being touted as "The Year Virtual Reality Goes Mainstream," but the calendar changeover was a rough one for fans of the Oculus Rift. Yesterday, the development team at Oculus announced that the Oculus Touch controller has been delayed, and that it won't be available alongside the Oculus Rift headset's early 2016 release.
Posting on the Oculus Blog, the developer said they need more time to perfect design of the controller:
On Touch hardware, we've made significant advances in ergonomics, and we're implementing many changes that make Touch even more comfortable, reliable, and natural. We're also implementing changes that improve hand pose recognition.

[…]

The feedback on Touch has been incredibly positive, and we know this new timeline will produce an even better product, one that will set the bar for VR input. We appreciate your patience and promise Touch will be worth the wait.
In order to make these improvements, the Oculus Touch controller will now be released sometime in the second half of 2016. However, Oculus still plans to bundle an Xbox One controller with every Rift headset.