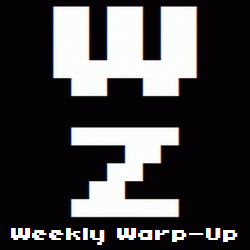 No, that's not a typo. Welcome to the Weekly Warp-Up, your weekly wrap-up of the biggest and the best articles posted at Warp Zoned this week…
The Christmas tree has been taken down and the New Year's confetti has been cleaned up. Yup, we are officially in the dead zone of video game news. Might as well strike up another round of "Auld Lang Syne" and take in another showing of Star Wars: The Force Awakens ($625 million already, can you believe it?).
Believe it or not, one of the biggest stories from this past week is the announcement that another game in the Bases Loaded franchise is in development in Japan. For someone who played a ton of Bases Loaded back in the NES days, this is definitely big news. But it's not exactly going to set the world on fire. "Auld Lang Syne" and Star Wars it is.
But before I go, I want to thank all our readers for sticking with Warp Zoned over the last five years. We love what we do and we're going to keep doing it for as long as possible.
A small batch of news from this past week can be found after the break.
New Game Announcements
More News
New Videos
Rumor Has It
New Release Round-Up