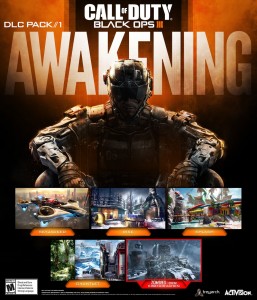 Activision and Treyarch have announced (via Twitter) that PC and Xbox One owners will be able to download the Awakening Pack, the first expansion for Call of Duty: Black Ops III, on Thursday, March 3.
The Awakening Pack will include four new multiplayer maps ("Skyjacked," "Splash," "Gauntlet," and "Rise"), as well as a brand new entry in the ongoing Zombies saga ("Der Eisendrache"). Players will be able to purchase the Awakening Pack as part of Black Ops III's Season Pass (priced at $49.99) or as a standalone download (priced at $15).
The expansion has been available to download for the PS4 since February 2.