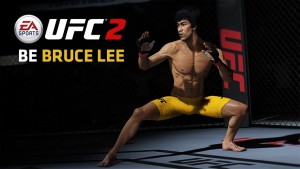 EA Sports has announced that Bruce Lee will return to the Octagon this March as a competitor in EA Sports UFC 2. According to the sequel's official website, players can use their fists of fury to unlock "The Dragon," or they can skip all that work so long as they own a copy of the original EA Sports UFC:
Three Ways To Unlock Bruce Lee

1. Get EA Sports UFC
Fans who own EA Sports UFC and purchase EA Sports UFC 2 will get Day One access to Bruce Lee for FREE. Play as the martial arts legend in the Welterweight, Bantamweight, Featherweight, and Lightweight divisions.

2. Beat Career Mode
Fire up your copy of EA Sports UFC 2 and start fighting! Complete Career Mode and get inducted into the UFC Hall of Fame to unlock the martial arts legend for play in the Flyweight, Bantamweight, Featherweight and Lightweight divisions. Beating Career Mode also unlocks legends Mike Tyson, Bas Rutten, and Kazushi Sakuraba.

3. Subscribe to EA Access
Don't own EA Sports UFC but want access to Bruce Lee when you pick up EA Sports UFC 2 starting on March 15? Subscribe to EA Access, download EA Sports UFC from The Vault and you'll qualify to get Bruce Lee in EA Sports UFC 2.
EA Sports UFC 2 will be released for the PS4 and Xbox One on March 15.