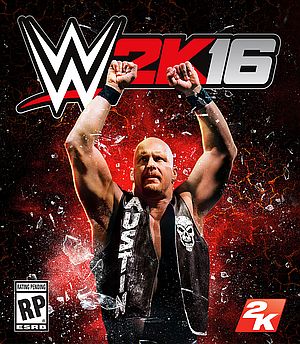 The tag team of 2K Games and Visual Concepts have announced that WWE 2K16 will be released for the PC (through Steam) on March 11… just ahead of WrestleMania 32, which will be held on April 3 in Arlington, Texas.
WWE 2K16 on Steam will include everything players on the PS4 and Xbox One received last Fall, as well as the Terminator pre-order bonus and the rest of the game's previously released downloadable expansions:
Arnold Schwarzenegger as The Terminator: Play as two playable versions of Arnold Schwarzenegger as the Terminator: T-800 from

The Terminator

and T-800 from

Terminator 2: Judgment Day

.
MyPlayer KickStart: Players will gain instant access to boost created Superstar ratings and attributes in the game's MyCareer mode.
Accelerator: Players will gain instant access to all unlockable content available in the game.
New Moves Pack: More than 30 new moves, including the Corner Enzuigiri (made popular by WWE Diva Nikki Bella), Avalanche Ram (made popular by WWE Diva Paige), Sidewinder Suplex (made popular by WWE and NXT Superstar Kevin Owens).
Legends Pack: Big Boss Man, Dusty Rhodes, Lita, Mr. Perfect, "Rowdy" Roddy Piper, and Trish Stratus.
2015 Hall of Fame Showcase:

"Macho Man" Randy Savage vs Jake "The Snake" Roberts
Rikishi vs The Rock
Alundra Blayze vs Paige
Larry Zbyszko/Arn Anderson vs Ricky "The Dragon" Steamboat/Dustin Rhodes
Tatsumi Fujinami vs Ric Flair
The Bushwhackers vs The Natural Disasters
The Outsiders vs Harlem Heat

Future Stars Pack: Samoa Joe, Diego, Fernando, Blake, and Murphy
Players who pre-order WWE 2K16 through Steam before March 11 will receive a 10% discount.