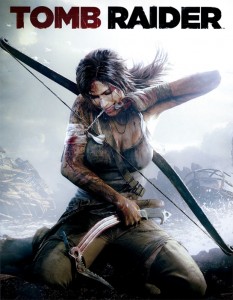 Angelina Jolie's portrayal of famed video game explorer Lara Croft is iconic. But, if you can believe it, almost a generation has gone by since the first Tomb Raider film and a reboot of the film franchise has been in the works since 2011. While there hasn't been much done in the way of pre-production (there's no script yet), Daisy Ridley told The Hollywood Reporter on Sunday at the Empire Awards that she has been (to use Hollywood lingo) "in talks" to potentially headline the new movie. That's right, Rey from Star Wars: The Force Awakens might be jumping into another popular franchise. Not bad for an actor who until recently was relatively unknown.
Her costar in The Force Awakens, John Boyega (maybe better known as rogue Stormtrooper Finn), even endorsed the idea of Ridley portraying Lara Croft after allegedly playing the most recent Tomb Raider game, 2015's Rise of the Tomb Raider, and immediately envisioning her in the role. "She should be [Lara Croft]," he said Sunday.
While this is pretty cool news, keep in mind it's all still up in the air. Ridley stressed she had not been offered the role, so fans of hers should keep their fingers crossed but maybe not hold their collective breath just yet. Things in Hollywood do have a way of falling apart even when there are more concrete plans on the horizon. I'm still holding out for a Sam Raimi-directed Spider-Man 4. (Not really, but you know. It's one of the great tragedies of recent cinema, is it not? I ask you!).